Nestled in the shadows of Mt. Kilimanjaro, set among the coffee plantations, lies an oasis of luxury and comfort, Weru Weru River Lodge, named after a river flowing from the glacial melt of Mt. Kilimanjaro. Surrounded by a coffee estate to the north, the lodge offers tranquility and beautiful views of Mt. Kilimanjaro.  Uniqueness is attraction! Unlike many western-oriented design lodges in Tanzania, Weru Weru is proudly composed of traditional architecture, décor and interior collections which altogether portray the authentic African home.
Surrounded by a coffee estate to the north, the lodge offers tranquility and beautiful views of Mt. Kilimanjaro.
Accommodation and Meals
The 32 beautiful appointed Self Contained rooms provide quality, comfort and tranquility. Weru Weru River Lodge is designed to compliment the surrounding environment, the 32 suite lodge blends all the comforts of home with the best of Tanzania's famous hospitality and style. Each suite includes two twin beds (which can be combined onto one double bed), sitting area, luxurious bathroom, mini-fridge, telephone, writing desk, walk in closet, air conditioning and balcony.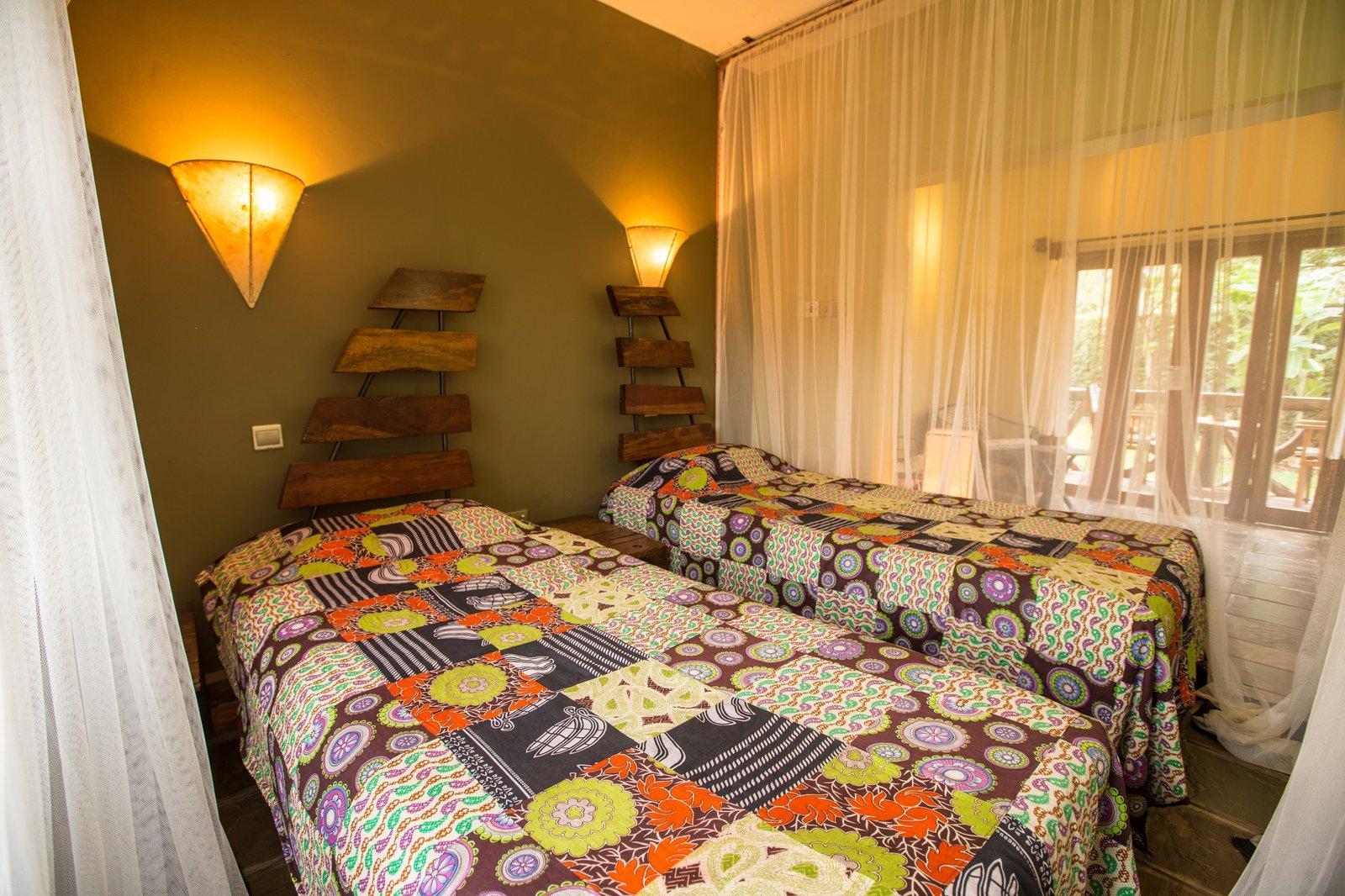 The Main Restaurant Offers an inviting and relaxing atmosphere for breakfast, lunch or dinner featuring regional favorites accompanied by true African hospitality.
2 Conference Halls The Big Conference Hall (MAWENZI) accommodates up to 200 guests in a theatre sitting style and the Small Conference Hall can hold up to 30 guests. Special offers for the conference halls are tea breaks with snacks and lunch breaks, two bottles of mineral water for each individual together with a flip chart and marker pens.
UHURU Coffee Lounge This lounge offers good views of the surrounding coffee plantations and of Mt. Kilimanjaro on a clear day. We serve a variety of coffees. Great place to view the sunrise and sunset. The lounge has a stationed KATADYN filtering machine which supplies clean drinking water for mountain climbers and tour guests.
BARRANCO Bar Ideally located on the ground floor of the main building, the bar is surrounded by wide open spaces and manicured lawns which blend into their surroundings, close to the swimming pool and dining area. There is a fire pit near the bar for those who want to sit around a bon fire and have a drink.
Campsite A total of 150 tents (300 pax) can be pitched on the camping ground. Camping includes an ample mess space, hot showers, toilets, free wireless internet plus 24hrs security. Curio Shop Full and well equipped store which displays various goods of standard traditional African art.
---
Social Share