The Governors' Il Moran Camp is located in the Maasai Mara National Reserve, in a wooded section of the park on the Mara River that attracts lots of wildlife and birds.  About one hundred years ago this place set aside for the governor of Kenya and his royal guests. Today, here are the four modern, luxury tented camps of Governors', all a colonial ambiance.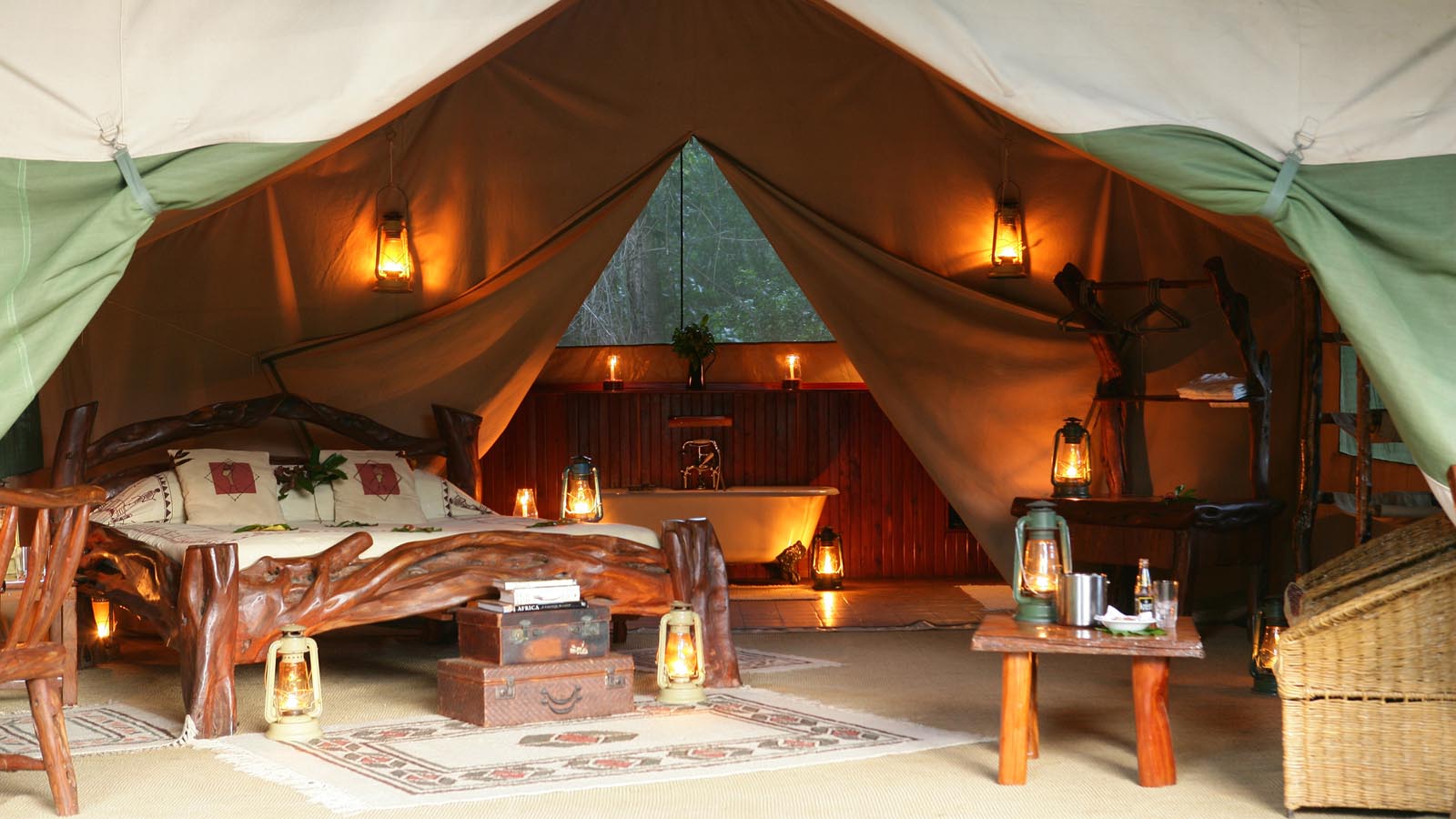 The other three Governors 'Camps are The Governors' Main Camp, Little Governors 'Camp Governors' Private Camp.
Il Moran Camp is ideal for honeymooners and couples looking for a small luxury camp in the heart of the Masai Mara and is in  a prime location for those wanting an exceptional safari.
Accommodation and Meals

Governors' Il Moran Camp consist of 10- spacious and comfortable safari tents positioned far enough apart to offer plenty of
privacy. All tents are incredibly spacious and equipped with toilet, shower with hot and cold water supply each with a private veranda with authentic furniture. From your tent you have a nice view of the river, where possible, crocodiles and hippos from the river ford.
 Il Moran Camp's dining room and central lounge area are both under canvas – with views of the river. Meals are often served outdoors to make the most of the fine location.
There are various activities on offer at Governors' Il Moran Camp    including two game drives a day and guided walks with experienced guides on hand to provide more detail on the wildlife you spot. During the wildebeest migration (between July and October), the camp is in an ideal location from which to view the herds move across the plains and also cross the Mara river.
There is no electricity in the tents but in the evening there is enough light of the paraffin and gas lamps, creating a special
atmosphere. In the morning, guests wake up with a coffee and tea, during which time the freshly baked breads and breakfast prepared.
---
Closest Airport to Governors' Il Moran Camp:
Musiara Airstrip 3.0 KM
Closest Properties to Governors' Il Moran Camp
Little Governors Camp 0.49 KM
Governors Camp 1.24 KM
Sentinel Mara Camp 1.35 KM
Governors Private Camp 2.34 KM
Mara Enkipai 4.98 KM
---
Please enter dates to receive pricing information
---
Whether you are planning to travel as an individual, couples, a group or family; we invite you to have your personalised itinerary or holiday designed and planned in detail by our travel and safari professionals. Call +254722433910
Social Share