Ikweta Safari Camp is situated 2 Kilometers from the Murera Main Gate of Meru National Park,  85 Kilometers from Meru and 348 Kilometers from Nairobi. Ikweta Safari Camp sits at the doorstep of Meru National Park and is an affordable Safari luxury camp offering value for money.
The accommodation comprises of safari style tents with a private verandah. Each is designed with a separate en suite bathroom, which includes a modern shower and toilet. All tents are east-facing for guests to enjoy the spectacular sunrise over Meru National Park from the comfort of their beds.
Accommodation and Meals
Ikweta Safari Camp is small. It comprises of 10 tents. Each tent is designed with an ensuite bathroom and shower. All tents face east to enjoy the sunrise. Night time is also beautiful. Ikweta Safari Camp is a convenient base for exploring the Mt. Kenya. The park is also a birdwatchers' paradise.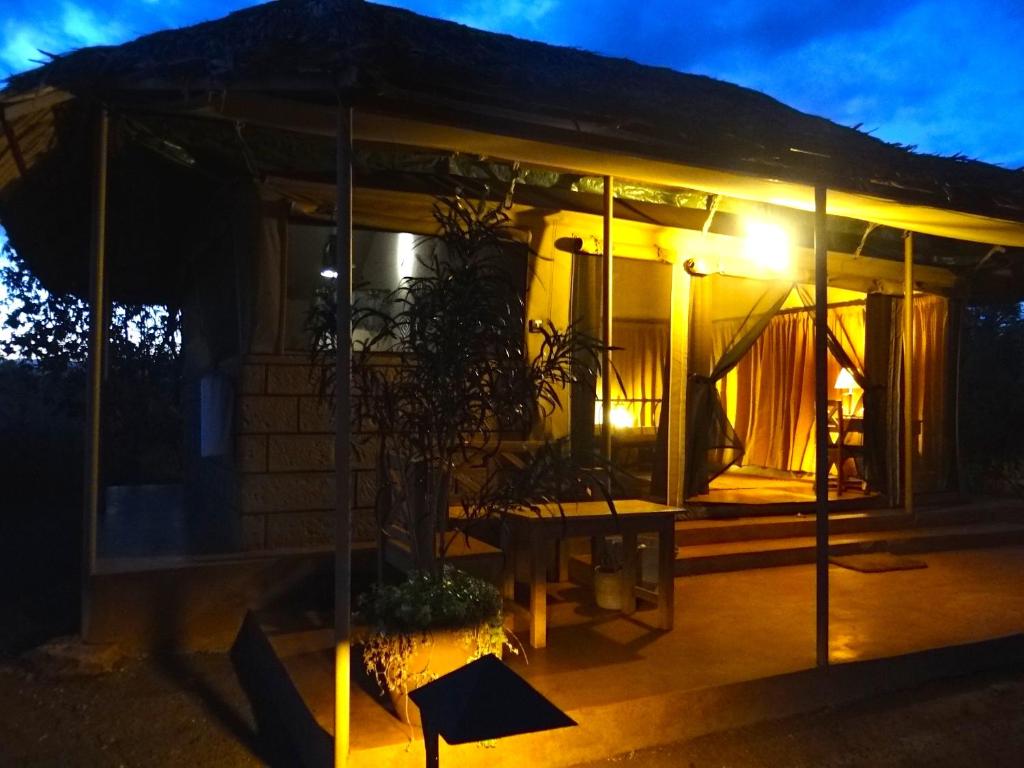 The cuisine is prepared from local produce. All dishes are cooked to order. Vegetarian dishes are always on offer. Other amenities include a large swimming pool, mains electricity, high-capacity backup generator and DSTv. Although Meru National Park can be easily visited independently, which is the norm, it is possible to bring a guide since guides' quarters are available. Guides/Drivers are offered same meals as clients, if they prefer. This is part of their full-board accommodation tariff, which is nominal. Since opening Ikweta Safari Camp has hosted many domestic and international guests, including several foreign and domestic film crews.
Meru national Park:– From its vantage location just 2 km from the Murera Gate of Meru National Park, the Main Gate, Ikweta Safari Camp serves as a convenient base for exploring the complete wilderness of one of Kenya's most beautiful national parks. Ikweta Safari Camp is about affordable safari luxury in the Mt. Kenya Region. Ikweta is also about offering personalised service and value for money.
Activities to engage in while staying at the Ikweta Safari Camp include
Morning and evening game drives

Scenic itineraries to interesting places in the vicinity of Meru National Park and the wider Meru Conservation Area

Cultural evenings of music and dance, in collaboration with Ameru Cultural Centre and Malka Bisanadi Cultural Village
---
Social Share