Lake Bogoria Spa Resort in Rift Valley is an Eden in a quite, isolated cocoon of comfort in the heart of an amazing product of African nature- the Rift Valley. The resort is an oasis in the middle of the Savannah, set in the Acacia surrounding of the floor of the Rift Valley against the backdrop of the Eastern wall of the Tugen hills in the west.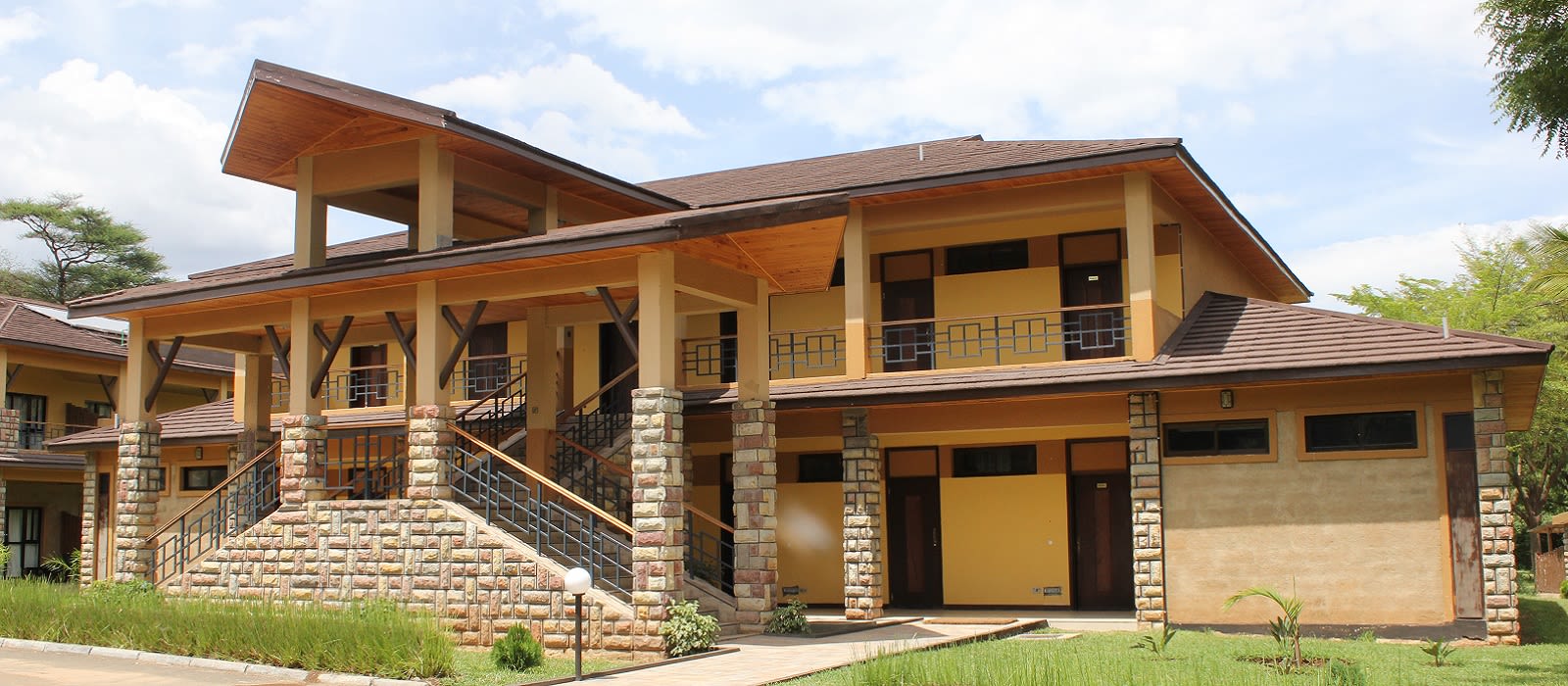 Lake Bogoria is  famous for its numerous geysers and springs, is 150km away while the capital city -Nairobi is just 300km from the resort.
Lake Bogoria Spa Resort is a paradise for bird watchers -the marabon storks and other resident birds provide a lively welcome for you! Though not a spa in the technical sense of the word, the resort is a spa in the true sense of the word in so much as its pool and water gardens are naturally heated by the boiling springs and geysers of the national park.
Lake Bogoria Spa Resort is the only Resort in Kenya with a naturally heated Spa pool. The resort is known as 'the healing place' because of the therapeutic values associated with the spa and the hot spring geysers. Nothing in the world beats relaxation and unwinding in the spa pool. This coupled with the singing birds makes a true paradise.
Accommodation and Meals
Lake Bogoria Hotel comprises of 22 rooms in the main block and 23 private cosy cottages situated in a short walk
from the main block and 4 of the rooms are VIP status. Each room is self contained with: Air conditioning, Telephone, Safety locks.
Lake Bogoria Kudu Restaurant and Choma Ranch offers a lean menu with emphasis on international Cuisine, African foods and a variety of other food items of exceptional quality. The Choma Ranch is five minutes driveaway from the Lake Bogoria National Game Reserve popularly known for hotsprings geysers and also plays host to a variety of animals.The nature of its setting is such that all international and "Wananchi" Tourists who visit Lake Bogoria National Reserve Hot Springs are truly refreshed.
Activities:
Bird Watching, Swimming, Pool table, Table tennis, A swim at the famous natural Spa resort pool known for its therapeutic value,Morning sauna at the hot spring geysers in lake Bogoria Game Reserve situated 2 km from the hotel, Day trip excursions to Lake Bogoria, Tugen Hills and Kapsaram historic site can be arranged on request
Lake Bogoria Spa Resort is located 284 kilometers from Jomo Kenyatta International Airport Nairobi, 266 kilometers from Nairobi, 125 kilometers from Nakuru Town and 20 kilometers from Marigat town.
We offer a  2 Days 1 Night Lake Baringo and Lake Bogoria Safari
This is a short overnight trip to the famous Lake Baringo and Lake Bogoria both located within the floor of the Great Rift Valley. Lake Baringo is a 4 hour drive from Nairobi while Lake Bogoria is only 25 kilometers south of Lake Baringo.
---
Social Share