Lake Burunge Tented Camp is situated on the shores of Lake Burunge and located in the migratory corridor of Manyara and Tarangire. Set in 25,000 hectares of a concession area dedicated to the conservation of the local Maasai Community.
Lake Burunge Tented Camp is only a 20-minute drive away from Tarangire National Park.From the elegant wooden central platform where the Lake Burunge Tented Lodge restaurant stands it's possible to watch the lakeshore waiting for the animals that come to drink there.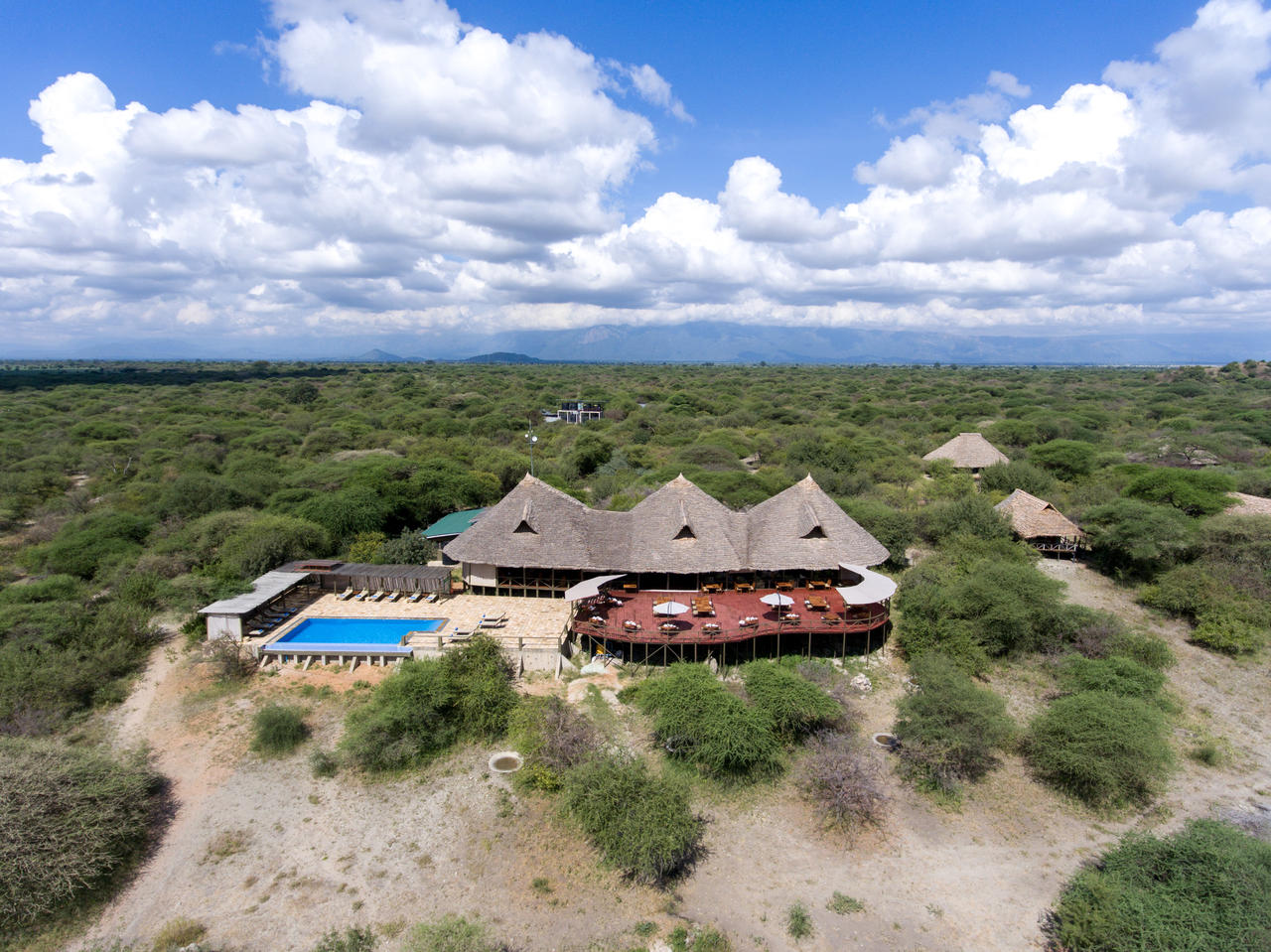 It has a type Infinity pool where guests can enjoy Lake Burunge.
Because the camp is strategically located in the natural corridor between Manyara and Tarangire, so the spectacle of the migration it's guaranteed. The camp is located 10 minutes from the entrance to the park known as Sangaiwe.
Lake Burunge Tented Lodge is the perfect place to relax in comfort after a day of gamedrives in Tarangire, simply carried away by the breeze and the colors of the African sunset from your private terrace.
Accommodation and Meals 
Lake Burunge Tented Lodge has 20 tents built on wide wood platforms and 10 bungalow. Double rooms with a double bed, with two and three beds. They have a private bathroom, private terrace. They also have solar electricity 24 hrs.
Each tent it's built over a wood platform with a terrace where the guests can enjoy the views of Lake Burunge, Tarangire National Park and on clear days Mt. Meru.
Activities:
PRIVATE SUNDOWNERS:- Enjoy an appetizer and cocktail on top of a kopje, the perfect place to see the impressive views of lake Burunge and Tarangire Park.
WALKS TO THE LAKE ACCOMPANIED BY A LOCAL GUIDE:- Take a walk along the shores of the lake where one can see numerous birds.
VISITS TO ETHNIC LOCAL GROUPS:-Visit the villages close to the camp which belong to the Mbugwe tribe, an opportunity to know their way of live.
SAFARI IN MANYARA NATIONAL PARK:-A safari in Lake Manyara National Park. Most of the area of the park is a thin stretch of land which runs between the Rift and lake Manyara. The park is arid, with woods and its own lake which practically disappears in the dry season.
VISIT TO THE CAVE PAINTINGS IN KONDOA:-These cave paintings were done over a period of two millenniums and constitute an exceptional testimony of the evolution of the region and the beliefs and ideas of the groups of humans that they represent.
GAME DRIVE IN TARANGIRE NATIONAL PARK:-Each morning and afternoon game drives can be arranged to Tarangire National Park.
---
Whether you are planning to travel as an individual, couples, a group or family; we invite you to have your personalised itinerary or holiday designed and planned in detail by our travel and safari professionals. Call +254722433910