Set on 200 acres of Lake Naivasha's southern shoreline in Africa's Great Rift Valley, the Lake Naivasha Sopa Resort blends in perfectly with its natural surroundings. It is the ideal base from which to explore the surrounding countryside and nearby National Parks and wildlife sanctuaries. Naivasha is a Masai name given to the area where the resort is located, denoting the characteristics of the lake including size and its tendency to roughness when windy.

Lake Naivasha Sopa Resort is located 100 kms from Nairobi or just over an hour on tarmac roads. The flying time from Nairobi to the Lake Naivasha airstrip is about 45 minutes.
An ornothologist's paradise, the lake is home to 400 species of wonderful birdlife and an abundance of fish and the water life. The sorounding landscape is host to a variety of game including giraffe, buffalo, the elusive black faced colobus monkey and,in the lake itself,schools of hippos that can also be seen grazing within the lodge grounds.
The unique layout of the lakeside lodge structures is designed to preserve the trees on the property, so guests enjoy an almost whimsical, flora conscious lodging while partaking of all that Lake Naivasha offers
Accommodation and Meals
Lake Naivasha Sopa Lodge has 21 cottages built in a crescent shape, and each has 4 rooms, 2 on the ground and 2 at the top, which totals to 84 rooms. 2 of these rooms are suitable for the physically challenged.6 of the 21 cottages have inter-connecting rooms on the ground floor.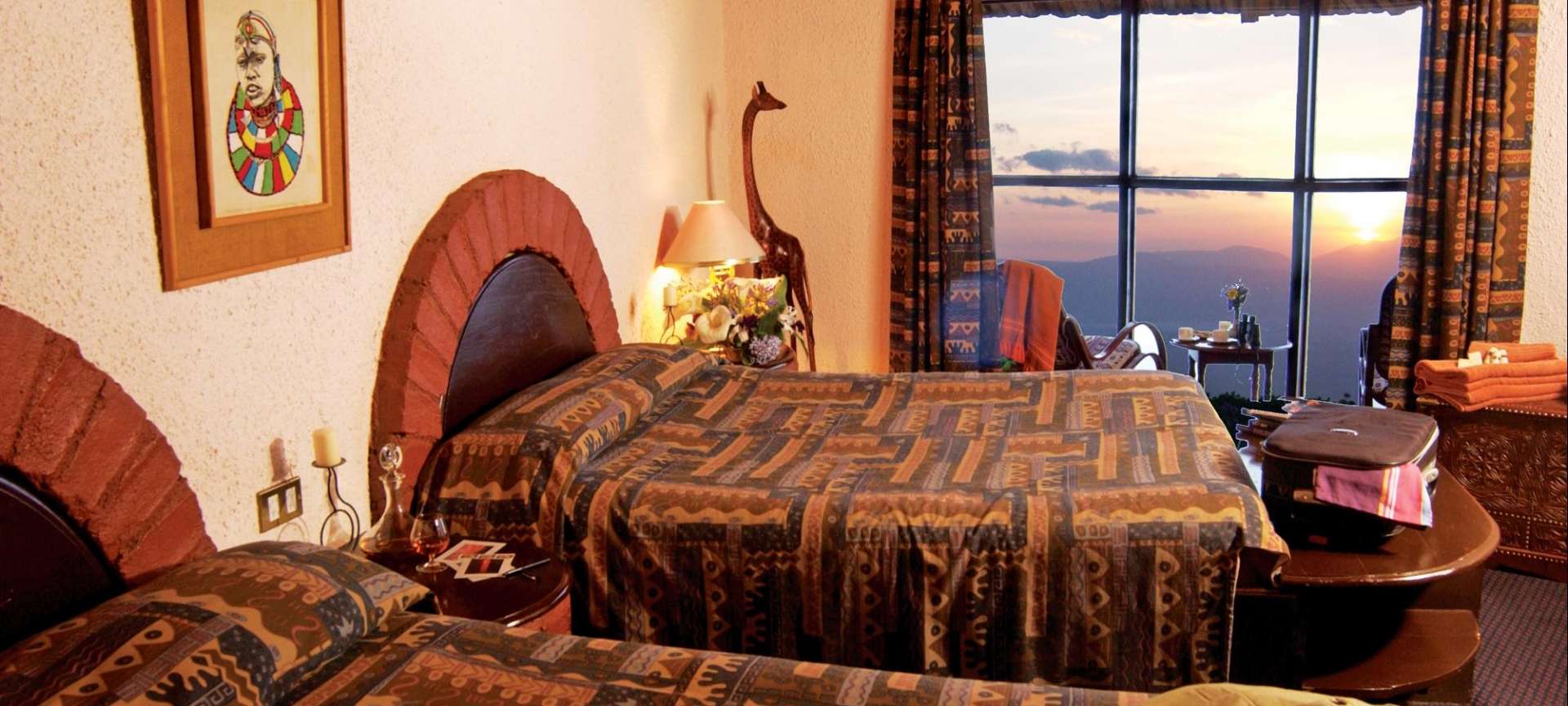 The rooms at  Lake Naivasha Sopa Lodge have panoramic views of the environs and the lake and are lavishly appointed, their ingeniously designed roofs gently sweep away from one side of the main building to form a crescent which leads towards the lake shore,  the exterior walls of the cottages have creepers and bougainvilleas,  excellent stone work is showcased in the rooms, wrought iron is used on banister going up to the first floor with creepers and bougainvilleas entwined around.
Lake Naivasha Sopa Lodge offers two restaurants serving a multi-ethnic combination of European, African and Asian dishes, all made with fresh produce.
The dining room also has a large, outdoor patio with umbrella-shaded tables for those who wish to enjoy an open air meal during the day.
The  main bar near the lounge, with its dark timber panel finish, cozy ambience, romantically subtle concealed lighting and high, upholstered bar stools, would have once been the perfect setting for a scene from one of Dirk Bogarde's movies.
Activities and  Leisure facilities at  Lake Naivasha Sopa Lodge include a swimming pool, kids' pool, gym, game drives, bird watching, cycling, boat trip to Crescent Island, day trips to Elsamere, Hells Gate and Mount Longonot.
Social Share