Lions Bluff in Lumo Community Wildlife Sanctuary borders Tsao West and is 50km from Tsavo East. Lions Bluff Lodge is one of the most dramatically positioned lodges in the country. Set within its own 125,000 concession the lodge is very much run in cooperation with the local community and has ensured increased protection for the wildlife living in the region bordering Tsavo West.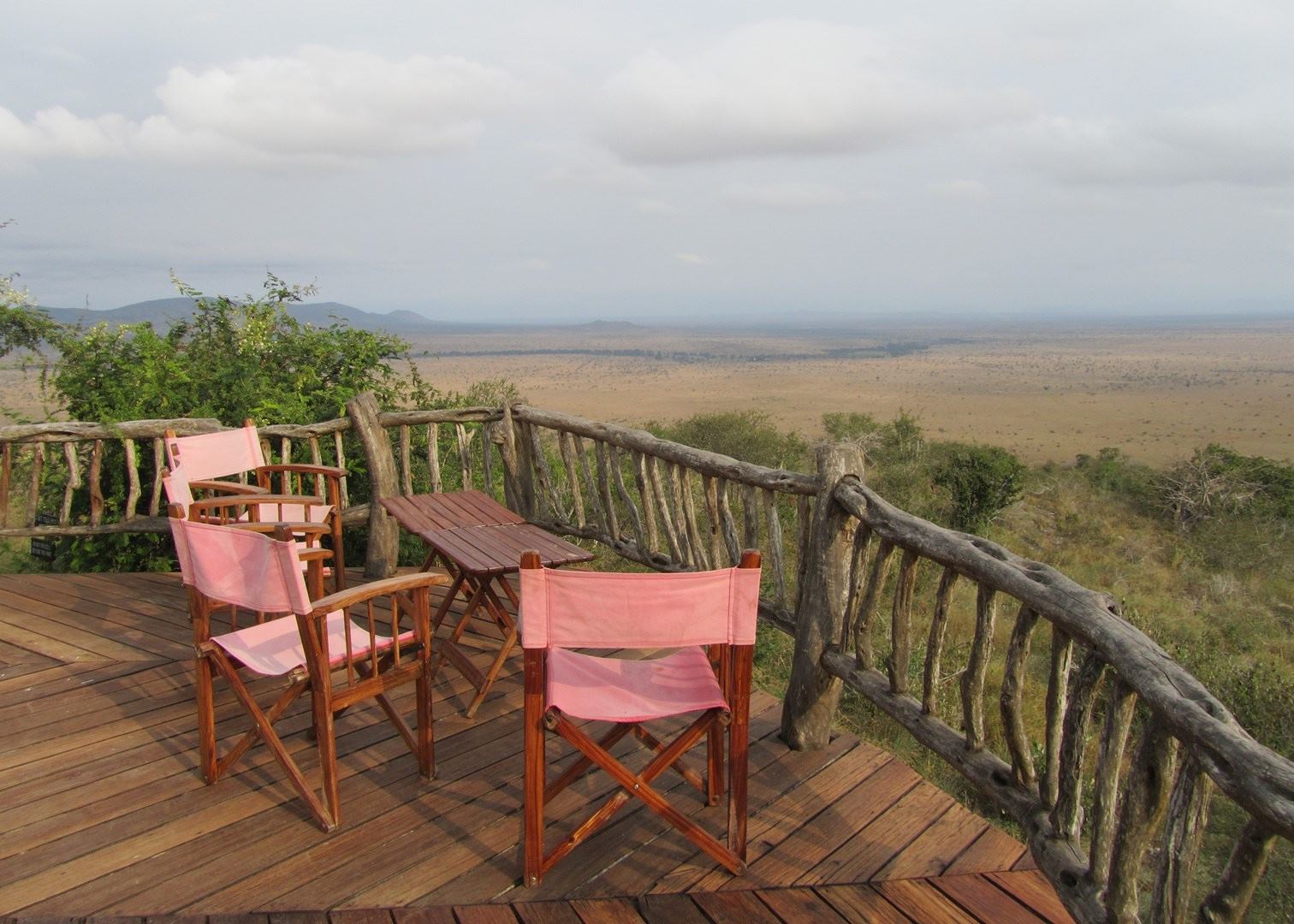 Tsavo offers some of the most magnificent game viewing in the world- vast herds of dust-red elephant, fat pods of hippo, giant crocodile, teeming herds of plains game, a fantasia of bird life and some magical flora. The Sanctuary is a vital wildlife corridor for the animals of Tsavo East and West, it is also an ancient elephant migratory route.   The area is surrounded by the North and South Pares Mountains (70 km distant), Mount  Kilimanjaro (80 kms away), the West Usambara Mountains and the Taita Hills.
How to get there By road: Tsavo West Mwakitau gate is 10km West of Lions Bluff. There are 3 airstrips in the Park.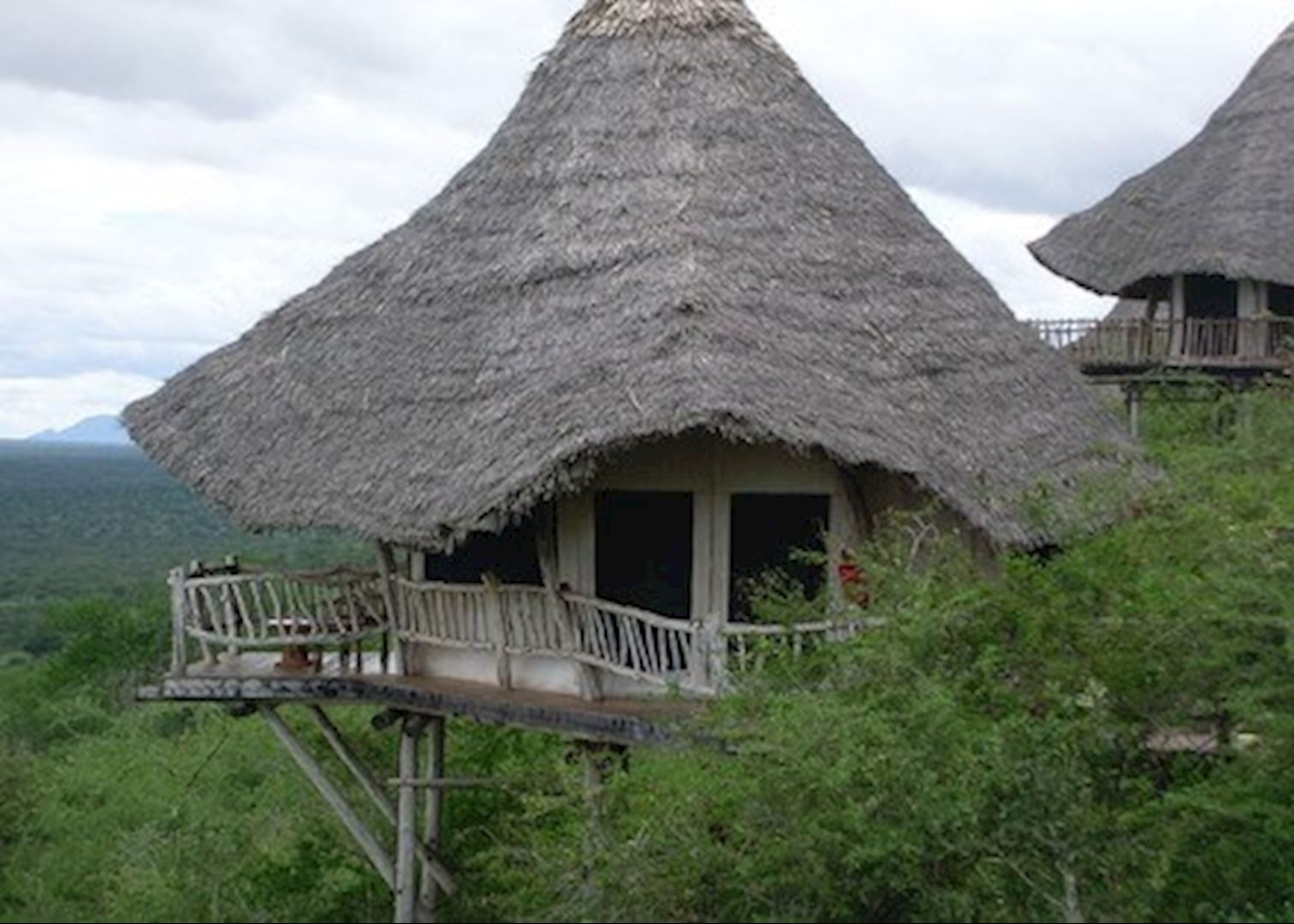 Accommodation and Meals 
The secluded and exclusive Lions Bluff Lodge counts just 14 tents with thatched roofs, polished wooden floors, a spacious hand-carved four-poster bed with crisp cotton sheets and the most stunning views from your private veranda. Lion's Bluff guarantees an intimate safari experience at an affordable rate. Lions Bluff Lodge has three types of rooms all taking advantage of the incredible vista stretching over the grass plains of the Lumo Conservancy. Eleven of the rooms are built out from the hill on wooden stilts, with wooden floors, canvas walls, and traditional coconut palm thatch roofs, one is built in the same style but with ferrous cement walls and private canvas walled verandah.
Lions Bluff Lodge is a small, unique lodge of sustainable timber, canvas, and traditional coconut thatch. For those that prefer the lodge also has a charming two-room cottage built with local stone and decorated with the same red soils as Tsavo's "red Elephant" Each banda at the Lions Bluff Lodge has a hand-made four poster bed adorned in crisp cotton sheets
Meals are served in the restaurant area and consist of good home food cooking. Often in the evenings dinner will be served out under the stars which is a memorable experience.
Activities to engage in while staying at the Lions Bluff Lodge include bush walks, night safaris, forays into the Taita Hills and, especially tailored to your wishes: sundowners or breakfast in the bush, The opportunity to learn about the ancient culture of the Taita people.
LEOPARDS LAIR:- Sleep in a luxury bush camp and awake to Africa's incredible sunrise ready to enjoy panoramic views of the Tsavo wilderness. Located on the same hill as Lions Bluff, is a the Leopards Lair bush camp, offering an exciting wilderness escape and an untamed safari experience.
Social Share