Set in beautiful and tranquil surroundings, the Mount Meru Game Lodge is nestled between the Usa river and the wildlife sanctuary. The sanctuary is home to zebra, ostrich, a wide array of birds and monkeys, including the elusive Colobus monkey. Conveniently located 25 minutes from Kilimanjaro International Airport (KIA), our lodge is an ideal base for your travels.
The main building of the lodge consists of a reception area, lounge and bar. The lounge, with its enormous picture windows and comfortable furniture, provides for relaxation environment. The bar is well stocked with a wide selection of spirits, beers and minerals which are complemented by a carefully selected collection of wines. To the front of the main building is a terrace which is shaded by enormous old Mango trees and which enjoys magnificent views over mature, carefully tended gardens to the Sanctuary beyond.
Mount Meru Game Lodge & sanctuary was established by Dr. Von Nagy in 1959 and remains in family hands till today.
Accommodation and Meals 
The rooms at Mount Meru Game Lodge were built over the last 50 years. The oldest room was built in 1961, its one of the oldest hotel rooms in Tanzania. The rooms are kept as original as possible while at the same time trying to keep up with the times.
The Lodge features a total of 17 guestrooms comprising of 13 double rooms, 2 single rooms, 1 inter-connected family room and 1 large single unit family room or triple room. Double beds are 7 foot long by 6 foot wide (what some call super king). Single beds are 7 foot long by 4 foot wide giving one plenty of space to enjoy a good night's sleep.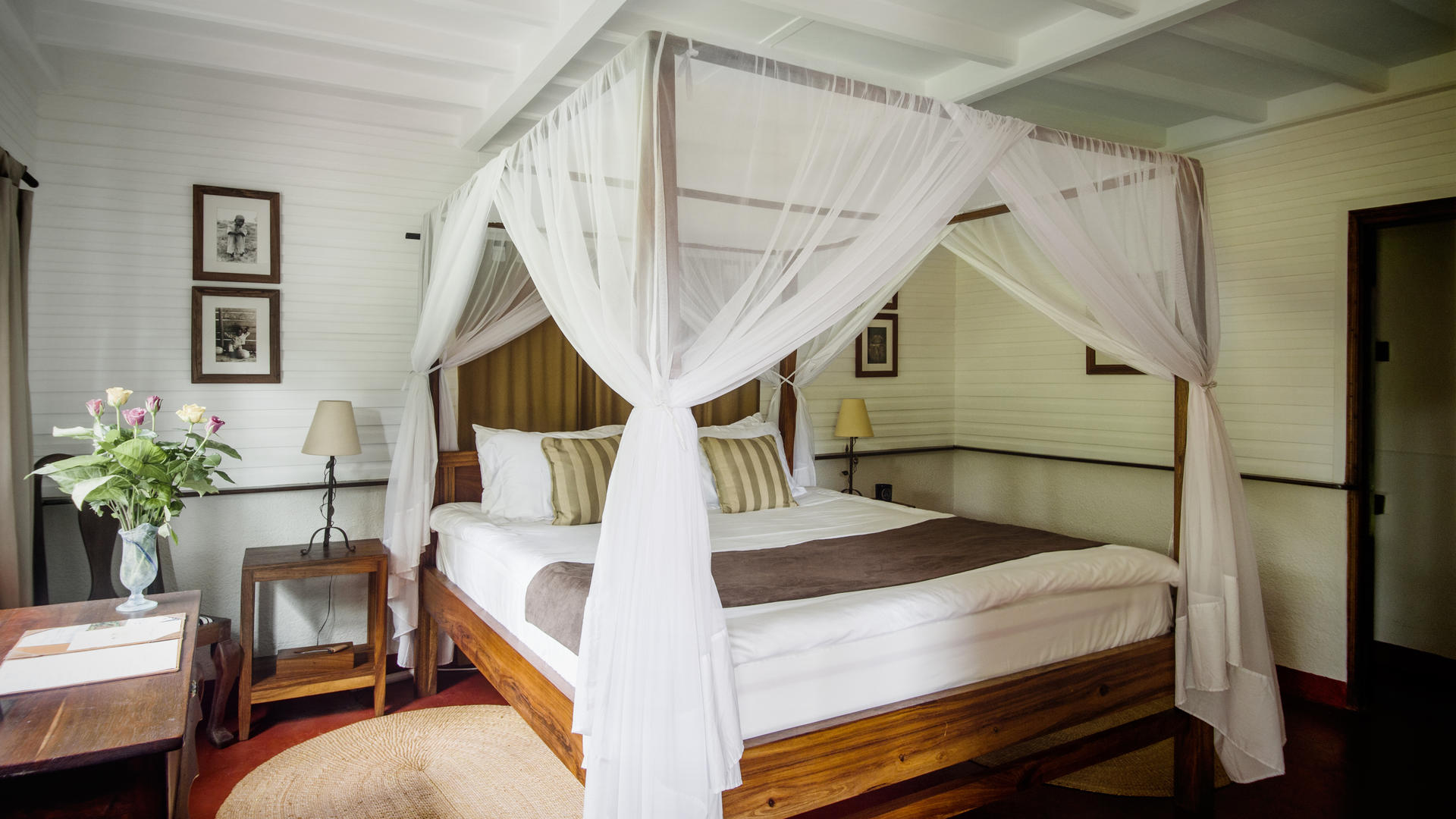 In the grounds of the lodge can be found an outdoor dining area and a swimming pool where one can enjoy a few rays of sunlight. The garden with its camp fire allows our guests to dine under the African star-lit sky whilst listening to the exotic night sounds.
Cultural & Educational Walks
Mount Meru Game Lodge offers unique 'Cultural and Educational' walks into Usa River, a small township of approximately 20,000 inhabitants located a few minutes on foot from the property. These walks provide a unique insight to our guests, without the nuisance factor of hawkers, on what authentic life for Tanzanians really entails. They are guided by our own staff, are offered free of charge to guests of the lodge and are very much appreciated by all who participate in them.
Coffee Tours
Coffee tours can be arranged to a collection of 20 or so small holder Coffee farmers who are located close by the lodge on the slopes of Mount Meru. These farmers produce anywhere between 100 kilos and 3,000 kilos of Coffee per year, all of which is washed and dried on the farms and then processed in Arusha. These tours allow you to witness this process first hand as well as to buy some Coffee to take home with you.
---
---
Whether you are planning to travel as an individual, couples, a group or family; we invite you to have your personalised itinerary or holiday designed and planned in detail by our travel and safari professionals. Call +254722433910 
Social Share