Mwagusi Safari Camp is situated in Ruaha National Park, Tanzania's largest national park, situated in the southern circuit of Tanzania. This well-established camp was started in 1987 and is an expression of the unwavering love and passion of its owner Chris Fox for the Tanzanian bush, its wildlife and its people. Mwagusi Safari Camp offers its guests a unique and comfortable tented safari experience. Almost all of the camp is built from natural materials such as grass thatch, timber, drift wood, stones and reeds, allowing the camp to be in perfect balance and harmony with its surroundings.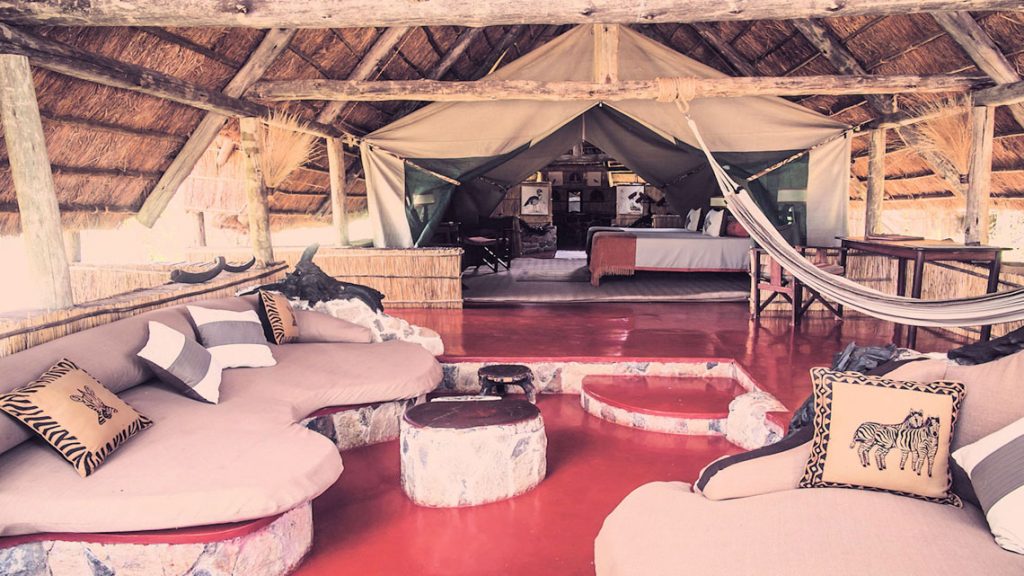 Accommodation and Meals 
Mwagusi Safari Camp consists of a large spacious tent sheltered by a cooling thatch roof and set on a polished red floor. Each banda has en-suite facilities with flushing toilet, an unlimited supply of hot water, shower, sink, shelving, a large mirror and good night-time lighting. Built using stones, driftwood and bones the bathroom is an area of interesting, unique and original design. Thick comfortable towels and locally produced clove soap are provided. All the "bandas" are built into the sandy banks of the Mwagusi River providing their own private and secluded view. Each has large covered verandah, with a comfortable cushioned seating area and swinging hammock, making this the perfect place to relax and view the passing wildlife.
Meals at Mwagusi Safari Camp  are eaten together with camp managers and other guests in any of our two main dining areas in a friendly and relaxed atmosphere. Private dining s can be arranged for large groups or newly-wed honeymoon couples. The main dining area is built looking onto the riverbed and has two large and comfortable seating areas where you can relax with an afternoon drink.
Food is prepared fresh everyday in camp, using local produce supplied by nearby farmers and the nearest town market. An early morning wake-up call includes tea or coffee in bed.  During the yellow season (June-December) guests are treated to unforgettable bush dinners under the African night sky in surprise idyllic settings.
Activities at  Mwagusi Safari Camp include: – Game drives, Guided Nature walks, Camp Bird walks
Social Share