Oasis Lodge– lies on the southern tip of Lake Turkana, close to the small settlement of Loiyangalani, a genuine oasis where fresh water gushes from the hot rocks and doum palms provide shade from the scorching sun.
Oasis Lodge has been established since the 1950's and has been the favourite "Oasis" of dozens of well-know personalities from stage, screen, sport and politics. Books could be written about these visits by prominent members of high society. The lodge has 2 fresh water swimming pools, fed  by the lake, in gardens lush with doum palms. Oasis lodge is a good place to shade from the hot desert sun. Relax with a drink at the bar or take advantage of the two swimming pools fed by natural hot springs.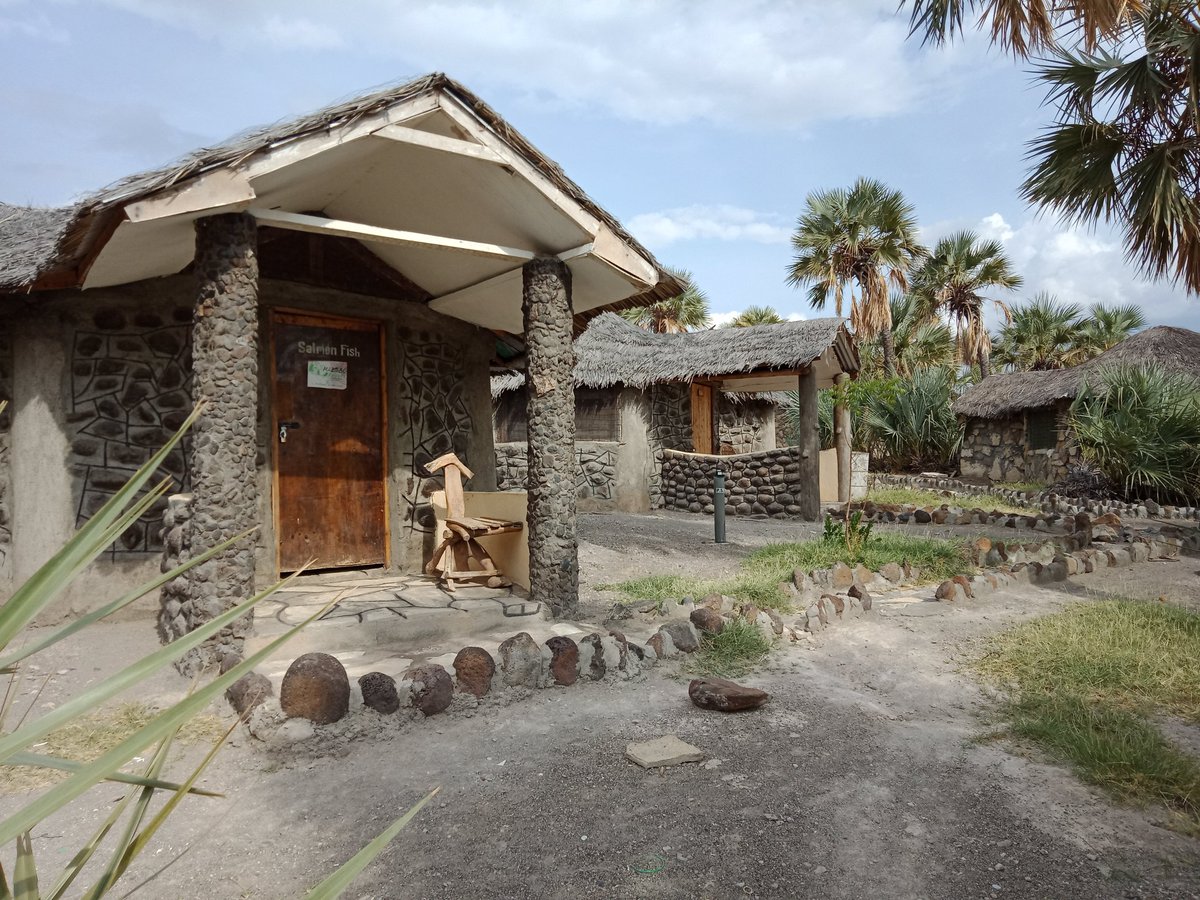 Accommodation and Meals 
The Oasis Lodge has 24 cozy cottages  en-suite rooms in verdant palm tree surroundings. These rooms are comfortably furnished with have single- or double beds and en-suite bathrooms. The grounds are lush, the pool is continuously filled with potable thermal water, insects are rare and the weather is hot, dry, but pleasantly windy. The catering is of the highest standard and our fridges are there to cool your favorite beverages. Oasis Lodge offers full-fry breakfasts, tasty lunches and dinners, all with the soothing views of Lake Turkana – the Jade Sea.
The Oasis Lodge restaurant has an À la carte menu of international dishes, and specializes in lake fish, fresh food, meat and vegetable- the dining area is very spacious with two interconnect room and a bar. The restaurant offers breakfast, lunch and dinners. The bar is well stocked with soft drinks, beers and spirits. include the use of a vehicle for the day, with driver and fuel. Fishing trips and boat trips on the lake can be arranged.
You may fly, using a charter aircraft from Nairobi. The flight from Nairobi to the Oasis Lodge-Turkana takes two hours and leads over some very interesting geography of Kenya, such as the Aberdare Mountains, the Laikipia Plains, the Maralal Escarpment, Suguta Valley, various volcanoes and Islands, and much more. With this flight one can view a cross-section of the Kenyan landscape in a short time.
Activities offered include:
There is a swimming pool, Boat excursions on the lake,Sport fishing, Local Elmolo village visits, Visit to Loyangalani Museum, Picnics and Sundowners
---
---
Social Share