The Rutundu log cabins is set off the beaten track on the northern slopes of Mount Kenya in an area of pure wilderness and breathtaking beauty.  These simple but welcoming cabins, located on the edge of Lake Rutundu, are the perfect place to escape from the fast pace of modern life, unwind and experience nature at close range. Enjoy walking in the incredibly fresh mountain air or try your hand at trout fishing on Lake Rutundu or Lake Alice. Bring your catch back to cook and enjoy from the veranda of the main cabin, with incredible views across the magical high altitude heathland.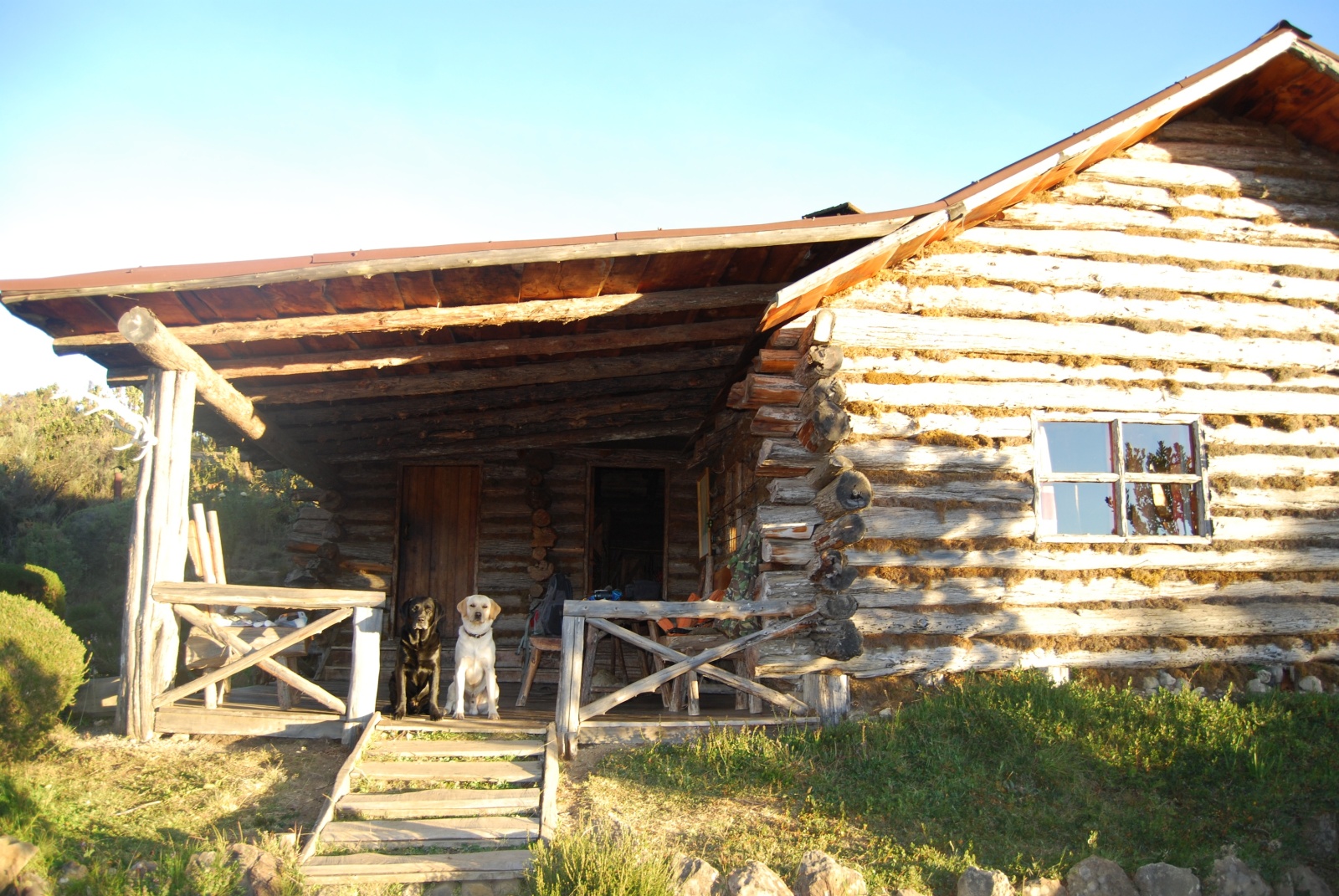 Rutundu log cabins is perfect for fishermen, walkers, families, adventurers and those simple wanting to experience the tranquility of the mountain. Rutundu is also undeniably romantic for those on honeymoon.
Accommodation and Meals 
Rutundu has two log cabins, each rustic but comfortable and with open log fires which keep them snug and warm during the cold mountain nights.  The main cabin has a sitting and dining room, verandah, kitchen and a large bedroom with a double bed, bunk bed and en-suite bathroom. The smaller cabin is detached from the main building and has a large bedroom with a double bed and two single beds, and an en-suite bathroom. 
Rutundu log cabins sleeps four people comfortably but larger groups can be accommodated if guests are willing to share rooms. The cabins have been built along the lines of an Alaskan log cabin, using large cedar logs found in the forests around the mountain. Moss fills the cracks between the logs.
Facilities at Rutundu Log Cabins
Rutundu is taken on a self-catering basis, so guests are required to bring all food, drinks and firewood and to take away all rubbish at the end.  There is a gas oven and hob and an 'outdoor' fridge, but no deep freeze.  It is advisable to bring bread and pre-prepared dishes (that just need to be heated up) as the oven is slow due to the altitude. The tap water at Rutundu comes from a spring and is suitable for drinking.  All bedding, towels, crockery, cutlery and cooking utensils are provided.  Our fabulous team of staff will help with cleaning and cooking, as well as being experienced fishing and hiking guides.
There is no electricity – all lighting is from solar lamps.   A radio is available for communication with Lewa Wildlife Conservancy. There is no phone signal in the cabins although there is a spot about 25 minutes walk away from where Safaricom signal is good.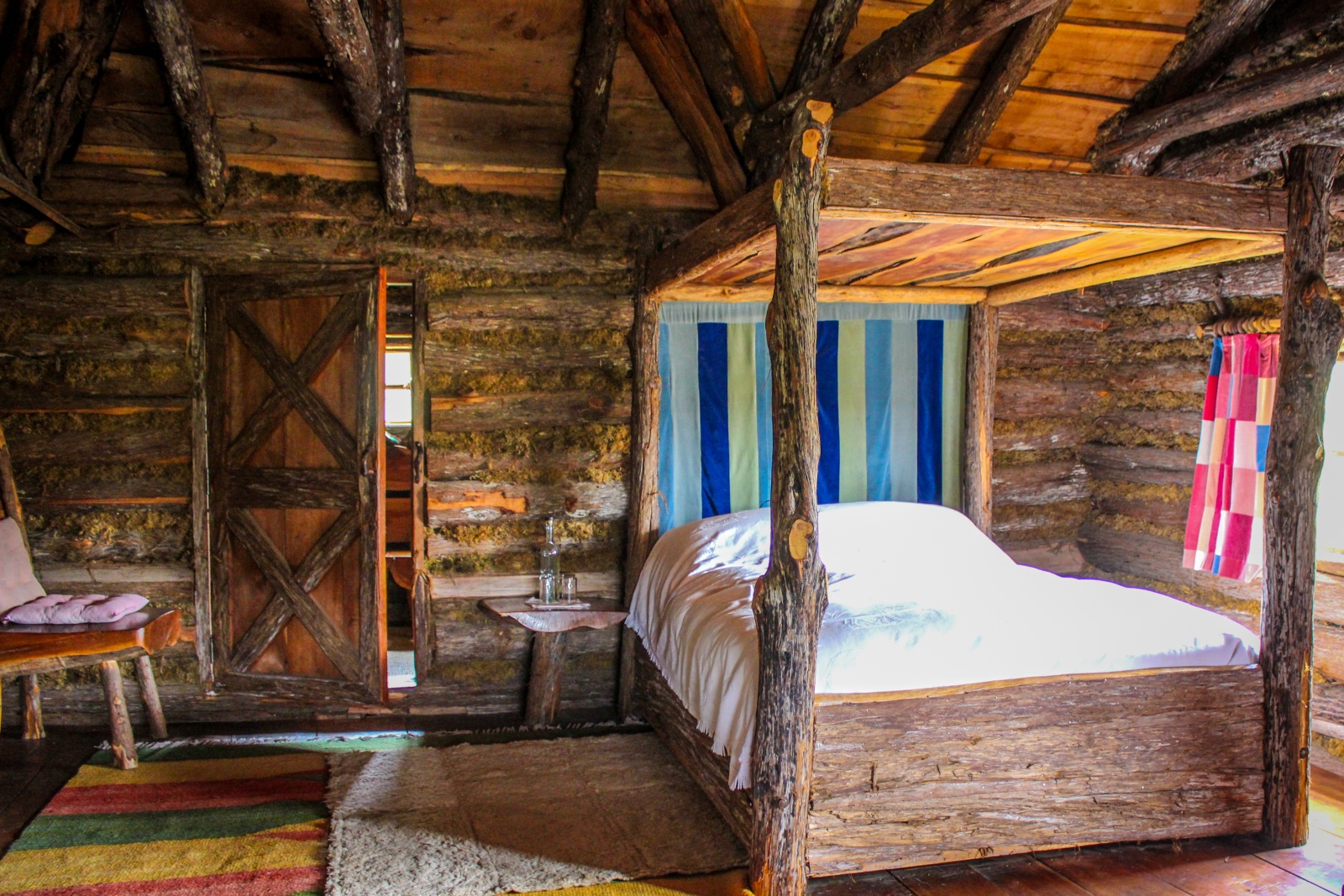 Activities:- Walking, Fishing,Bird watching, Horse riding, 
Accessibility: Rutundu is open all year round however weather conditions on Mount Kenya can be unpredictable, with bright sunny days changing into cloud, rain or hailstorms. Therefore bookings must be made upon the understanding that the weather may adjust your travel plans at the last moment.  If it is raining it is not usually possible to drive up.  If this is the case you may have to change your dates without any additional booking charge, or can be refunded.
By Road: From the turning on the main Nanyuki-Isiolo road up to the log cabins a 4 x 4 vehicle with good clearance is essential. The drive takes approximately three and a half hours from this turning (so from Nanyuki to the cabins takes about four hours and twenty minutes).  The road deteriorates somewhere from the hollow trees (Hargenia) onwards – these trees are a good half-way mark. The road ends at the Kizita/Kithita gorge, where there is a parking area to leave your vehicle. From here the cabins are a challenging fifteen minutes walk though the gorge. The Rutundu team will meet you where the road ends and carry your luggage up to the log cabins.
By Air: There is an airstrip about 1.5kms from the cabins and a helicopter-landing site about 100m from the cabins.
---
Social Share