Segera is a luxury accommodation and sits on a vast open landscape with views of Mount Kenya and the Loldaiga Hills – the bush often gives way to open plains and vast expanses of pristine African wilderness. Just eight luxury villas in a private game reserve of 50,000 acres in the foothills of Mt Kenya makes Segera very private and exclusive.
See all of the Big Five in addition to rarer species such as Wild Dog, Reticulated Giraffe and Grevy's Zebra. The reserve enjoys stunning landscapes, including views of Mount Kenya right from the lodge.
Fusing absolute luxury with environmentally friendly technology, Segera Retreat is a splash of green in a golden savannah. What once corralled cattle away from predators is now a lush botanical garden with mammoth indigenous euphorbia trees shading flowering pathways that link thatched elevated villas to pools, daybeds, bars and lounge areas.
The game here is abundant and the conservation and community initiatives second to none. Some of the nicest, most charming and efficient staff work here, all employed from the local area with a vested interest in what is their land. The lodge itself is extremely luxurious with gourmet food, an enviable wine cellar, outdoor bathtubs, a spa, a private two roomed honeymoon retreat with private pool, and one of the most impressive private houses in Africa complete with old Toyota and Rolls in the sitting room and dining room – a must for anyone wanting exclusivity.
Accommodation and Meals 
No of rooms: 4 villas, 1 family villa, Segera House (two bedrooms), Villa Segera (one bedroom, a vast sitting room, and private pool).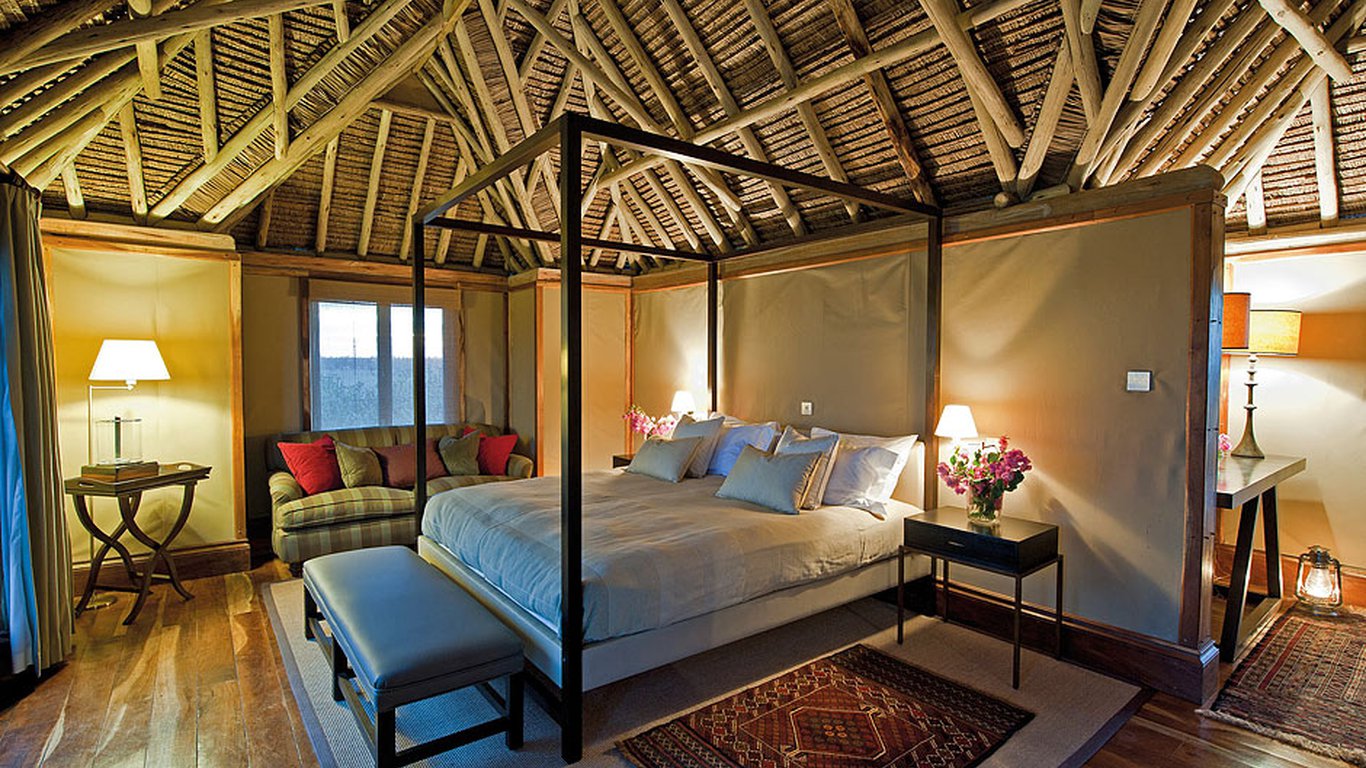 Segera's dining experience is personalized and creative. Menus focus on fresh, seasonal, homegrown ingredients and are thoughtfully tailored to guests' preferences, specific venue styles and individual wine recommendations.
Highlights- Exclusivity, amazing game, gourmet food, a magical collection of African memorabilia including unpublished Hemingway and Livingstone letters, and the actual plane from Out of Africa.
Quick Facts on Segera Retreat:
Eco-friendly luxury lodge rooted in sustainable tourism
8 timber & thatch Villas, accommodating 20 guests
Views of Mount Kenya and the beautiful Rift Valley
An Oasis: Solar-power & rainwater-harvesting plants
Twice daily game drives and guided nature walks
Refreshing salt water pools at lodge
A wellness journey: Rasul steam tower & Spa
Farm to table meals from the local vegetable garden
Flying to Segera- Daily scheduled flights from Nairobi take 35 mins,
plus 2 hour transfer by car to Segera. Alternatively, private Charters are available direct to Segera, on request.
---
Social Share