Sonrisa hotel is in the vicinity of Diani Beach village. This private resort ensures luxury and tranquility with beautiful views of the sparking turquoise waters of Indian Ocean. Sonrisa hotel  is absolutely perfect place for guests who are appreciating privacy, minimalism in decoration combined with the functionality and who are looking for retreat. Sonrisa offers a personal touch and has a lovely beautiful karma about it. Sonrisa hotel  is a dream destination for wonderful relax, discovering of sophisticated yet subtle beauty of Africa and savouring it.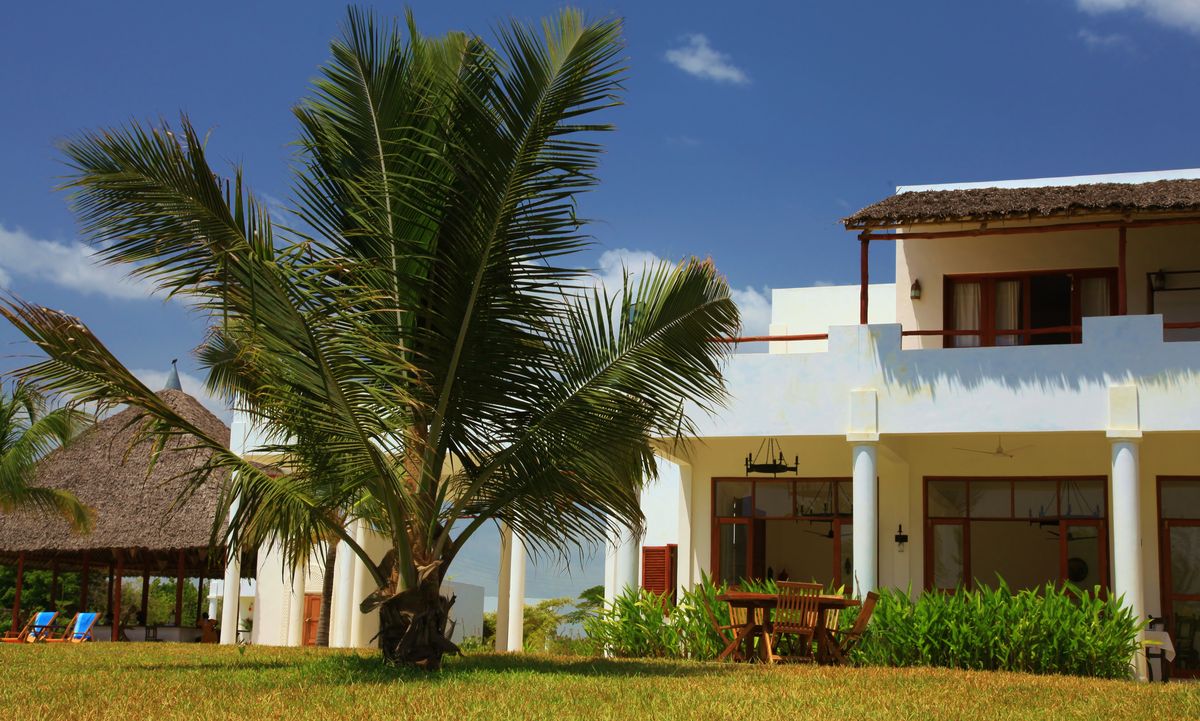 Sonrisa Hotel  architecture is an original combination of different styles. Apart from obvious African accents there are touches of Swahili, colonial and Arabic style. Local natural materials such as coconut fiber and coral stones have been used to create unique decorations of the hotel, whereas masks collection and pieces of art displayed at the hotel come from all over Africa. Guests can relax in a beautiful large swimming pool with a magnificent view over the beach and the turquoise ocean. There is special place on a small cliff adjacent to the beach where guests can enjoy a massage by the local masseurs while listening to relaxing sounds of palms and the ocean.
Accommodation and Meals 
Sonrisa Hotel  consists of the main building with five rooms on the first floor and a restaurant on the ground floor. Three separate villas and a bar are located in the garden. All rooms and apartments are furnished in Swahili or African style with particular attention paid to details such as mahogany woodwork or hand-made carvings. The bathrooms are decorated with natural coral stones tiles; they are spacious and equipped with rain showers. Air conditioning, fridges and safe-boxes are available in every room. TV is provided only in the apartment, VIP villa and at the bar, where you can also access wireless internet free of charge.
The Hotel Sonrisa restaurant is located in the main building directly at the beachside, with the astonish view over the Indian Ocean and a calming sound of the waves. Your meal can be served on the beach as well. Dining under the starry sky subtly lightened up by oil lamps is an unforgettable experience!
Fish and seafood is a specialty at Sonrisa hotel . An oven-baked fish wrapped in banana tree leaves and served with coconut flavored rice is just unbeatable. And sweet dessert makes every  meal perfect – Home made chocolate is always warm recollection. All meals are prepared of fresh local products and adjusted to Europeans likes and tastes. Also available typical African and Indian dishes. On special request the meal call Koroga can be prepared and served on the beach, which gives you a chance to spend nice time together while cooking in a big pot called sufuria  on a coal oven called jiko.
Hotel Sonrisa is located close to the Water Sports Centre offering kite and windsurfing as well as scuba diving, including PADI courses, deep sea fishing trips and Game Drives to nearby Safari Destinations.
Opposite leisure lodge hotel there is 18 golf course.
---
Social Share