Tarangire Treetops Lodge is located close to Tarangire National park in Northern Tanzania set on a hillside overlooking the reserve. Both the main building and rooms are built around some impressive baobab trees, the rooms being raised up on stilts.  Elephants are attracted to the front of the main building by a small artificial drinking pool, which certainly provides some additional atmosphere.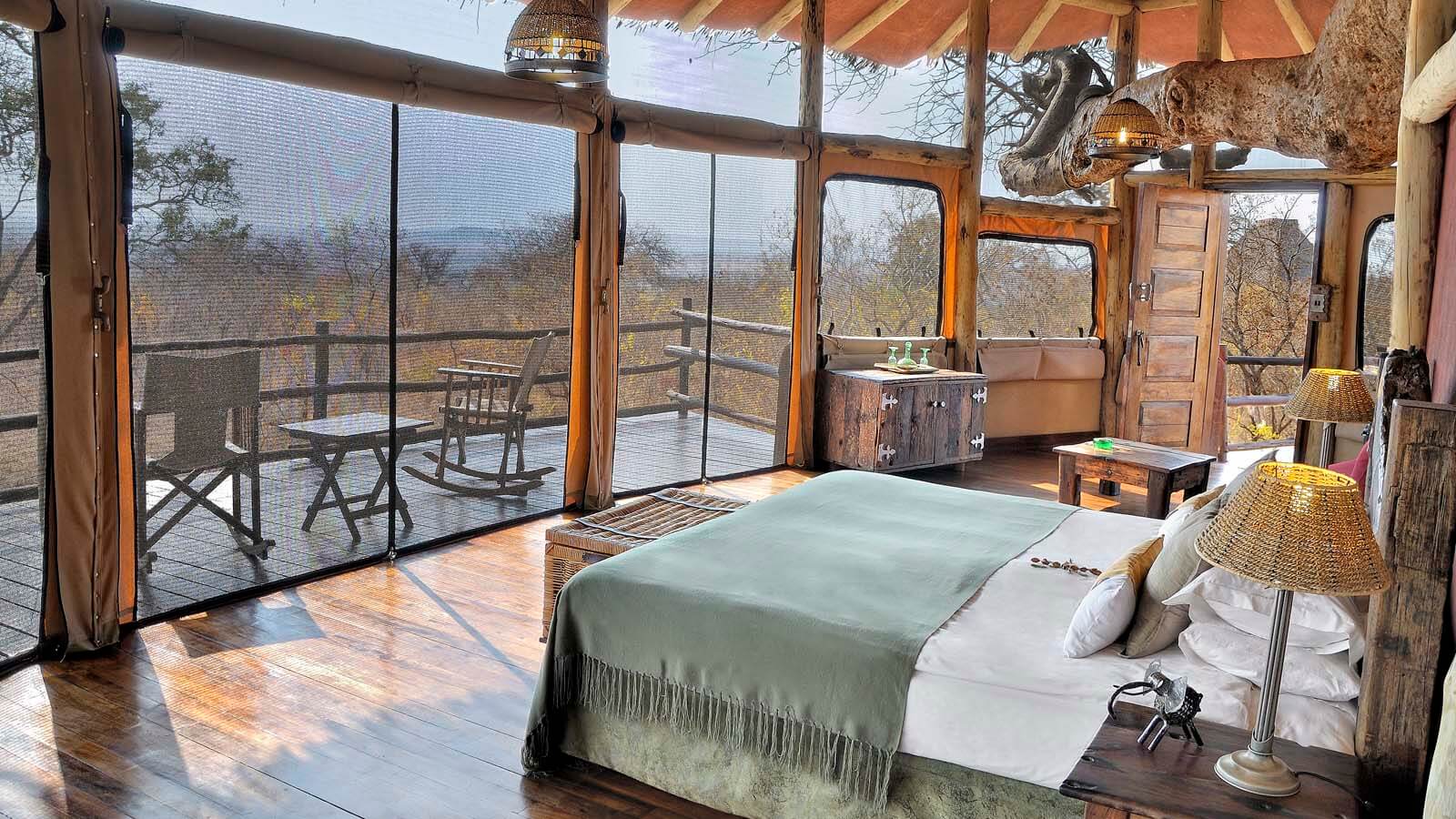 The main lodge Tarangire Treetops is extremely impressive! Built around an old Baobab tree, the open plan living area is spacious and extremely welcoming. The structure is almost entirely built out of wood and raised slightly above the ground. There is a central living area building in the flooring and below the ground level, with pillows and sofas to relax in. There is a fancy bar and dining area that look out to the pool which face the park. Being raised and built on a natural rise in the earth, you get good views.
Accommodation and Meals
Tarangire Treetops Lodge comprises of 20 rooms equally as impressive that are raised quite high with access up a spiral staircase through a trap door. They are very large with open plan bathrooms, massive beds and panoramic views out over the park. Each has a private balcony with chairs and a table.
Each Treetops Room boasts one of the largest bedrooms to be found in any camp or lodge in East Africa – with a floor space of 65 square metres – and all with an exotic double shower en suite bathroom.
With furnishings that create warmth and demonstrate a commitment to local craftsmanship, the 'up-in-the-air' experience is completed by the open-fronted room design affording views across the Tarangire plains from an expansive but private balcony.
Dining at Treetops sustains the momentum of undeniably memorable moments.
Whether enjoying a lantern-lit dinner in a traditional Boma echoing to the sounds of Maasai chants, or eating poolside by candlelight whilst a wealth of wildlife comes to drink at the Lodge water hole, Treetops creates memories by the minute and in so many differing ways.
---
Whether you are planning to travel as an individual, couples, a group or family; we invite you to have your personalised itinerary or holiday designed and planned in detail by our travel and safari professionals. Call +254722433910
Social Share